Monday & Wednesday Evenings 6:30 pm – 7:30 pm (starts June 1st)
Are You Ready To Attain The Results You Desire?
Feel healthier
Transform your body
Exude confidence
Look sexier
Feel younger
Tone and shape your body
Look younger
Enhance your sex appeal
Sleep better
Look great in your favorite clothes
Relax better
Lose unwanted body fat
Think clearer
Improve your balance
And so much more . . .
Now you can at a fraction of the cost of one-to-one personal training.  This is a group personal training class for individuals who want some guidance and coaching in a group setting, but aren't necessarily considered beginners in the area of exercise.  It's fast paced and you'll get an awesome workout twice a week.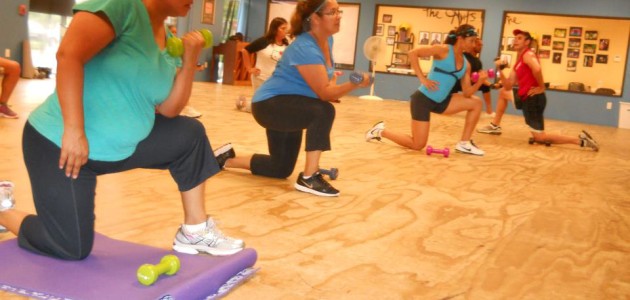 What Is IMPACT?
IMPACT is the fitness and lifestyle program designed to get you fit or fitter fast! IMPACT incorporates all of the advanced training principles  and modifies it into a fun and productive group workout for any fitness level that you can enjoy and see quick results from.
Each workout includes a dynamic warm up to get your energy up, your blood pumping and prepare you for what's to come. Next is a speed, agility and quickness segment referred to as SAQ. Here you will perform drills seen in track and field events, in football combines and from your grammar school gym class. 
SAQ is followed by strength and conditioning. You can expect some traditional and some new strengthening moves to sculpt your perfect body. Just when you think you can't possibly have any more fun, you get some fat blasting cardio and conditioning that leaves your metabolism at an all time high for hours following your IMPACT workout.
Finally you will be rewarded with a focused core/ab work and total body stretching that will leave you feeling accomplished, happy, successful and inspired. 
While the workouts sound intense (and they are) your instructor is a certified professional who knows how to modify the exercises for all levels and abilities. You will be instructed to perform as much as you can handle, given modifications for your abilities and will be supported in achieving the results you desire. Do not let fear or intimidation keep you from this program. In a month your abilities will be heightened and you will be in a new body.
IMPACT is more than a workout, it's a lifestyle program. After you register and prior to your program starting, you will receive all of the tools that you will need to be successful such a fat loss jump start guide and meal plan as well as other valuable materials. Your program is carefully supervised by an IMPACT certified coach who knows you personally and is dedicated to you reaching your goals.
The IMPACT program is meant to be continued month after month as your source for ultimate fitness. You will never have a boring workout again and every time you attend a session, you will have a structured workout with a professional trainer every single time! Those who attend all of their monthly sessions, participate in the pre-and post assessments, read and apply the daily e-mails and follow the nutrition plan will see the most dramatic results in one month. Expect fantastic results!
And here's the best part, it's only $59 per month at Cida Fitness.  If you've always wanted to be in a personal training program, now is your chance to have an expertly coached class with lots of variety to get you results at a fraction of the cost.  And, you'll be around like-minded people looking to accomplish many of your same goals and have fun.
Unlimited Classes (attend any regular scheduled class every month)  $59 per month
Punch Card (valid for any 12 regular scheduled classes)  $100
Frequently Asked Questions:
1. What if I am not in good enough shape to participate? Your coach is an experienced fitness professional who is trained to make adjustments for all abilities. Everyone will be successful and modifications will be given throughout the class to accommodate everyone and so that everyone can be successful in seeing physical changes.
2. What if I want to join in the middle of a month? The program is set up to run continuously throughout the year.   So,  you can join at any time.
3. How hard are the workouts? The workouts are challenging. They are developed with the intention to change your body in positive ways as quickly as possible. There is a good chance many of the workouts are new to you and the format allows little time for rest. That being said, the class is self paced and you will be encouraged to do your personal best.  Again, modifications can be made for any exercise within the program.  Remember, change happens outside of your comfort zone.
4. I know a lot of people….do you give referral rewards? Yes, Cida Fitness will give you a $30 check for each person you refer that registers.  So, if you share this program with 2 of your friends, you'll get to attend free for 1 month.
5.  What if I have joint issues or other medical problems?  We do not recommend this class if you have joint issues or any type of known health condition.  We do a lot of squats, lunges, speed drills, etc., which may require full range of motion and descent level of flexibility.  We recommend obtaining a doctor's approval before starting this class to be on the safe side.
6.  Do you have a fitness assessment?  Yes, we conduct a monthly fitness assessment and measure your body weight, body fat percentage, and body circumferences.  In addition, we have a monthly lecture workshop on a topic related to health, fitness, exercise, nutrition, and motivation.
7.  How much is this class again?  $59 per month with automated payment.  And, you'll be able to attend all of the other cool classes offered at Cida Fitness, such as Zumba, Nutrition Workshops, and Core & More.
Unlimited Classes (attend any regular scheduled class every month)  $59 per month
Punch Card (valid for any 12 regular scheduled classes)  $100